The


Weston Story
---
Jason is our founding director. His experience is design and cabinet making kitchens extends over 20 years. He developed a love for building from a young age. Sharing this love of building furniture from his grandfather and repairing anything they could get their hands on, is what sparked the flame for what is now one successful business.
Weston Kitchens was created in 2015 with the dream of creating beautiful custom high-end cabinetry on a level not offered in QLD. Since inception, that dream has become a reality and the dream has grown through diligent work, a focus on quality, competitive pricing and excellent customer service that helped sustain strong growth.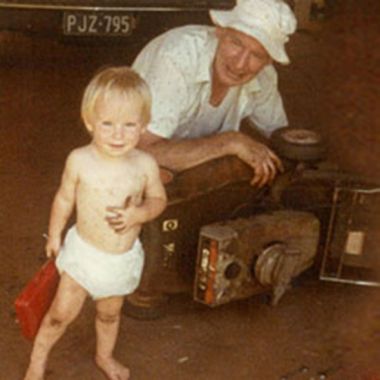 However, to be honest, a big reason for the success is Jason's wife Kellie who had added the design and creative flair to take Jason's quality to creative beauty. A client recently described their new kitchen as 'a piece of art', and we love that our vision is turning into reality. Kellie joined the Weston Kitchen's team in 2017. Kellie who is passionate about kitchens and design, discovered her love for interiors and decides to study interior design. Working with clients across Toowoomba and the Darling Downs allowing her passion to grow and evolve into Darling Interiors, Kellie is the founder of Darling Interiors.
Kellie believes it is important to create a cohesive flow throughout a home. As the kitchen is "the heart of the home" it is essential that the design be both functional and beautiful. 'There is nothing better than coming home to a place where you can relax and enjoy your own space, specifically designed for you and your family.'
Together, with their two boys supervising, the cabinetry is custom designed and built in our local factory in Toowoomba using local tradies they employ, not subcontract. We specialise in Kitchens, Bathrooms, Custom joinery design, project management and constructions. Quality materials and workmanship is our main focus.
Using only state-of-the-art machinery operated by qualified cabinet makers, the knowledge we have to bring your kitchen to life, is second to none. Our team at Weston Kitchens offer a one on one personalised service. We are dedicated to providing every client with beautiful, quality joinery that will be sought after time and again.
About


Weston Kitchens and Bathrooms
---
Our services include joinery for your kitchen, bathroom, laundry, outdoor kitchen, wardrobe, custom TV cabinet, custom made furniture and office fit-outs. We can also work with your builder of choice for the joinery in new houses.
Our team has the know-how you need to successfully complete your project to your timeframe, and your budget. Expert craftsmanship combined with personal service – that's how we ensure our customers are completely satisfied with each and every project.
Quality materials and workmanship is our main focus at Weston Kitchens and Bathrooms and we 100% guarantee all our joinery is made in our Toowoomba factory by local cabinet makers using only the highest quality materials.
One of our qualified team can meet with you onsite and at our showroom to discuss your requested work. Our showroom features laminate, 2PAC and stone displays and a solid timber vanity. We will bring your ideas to life with our 3D design drawings to help you visualise what your finished product will look like.
What our


Customer says
---
Excellent Work!

"I wanted to thank you for all your help with the this project. Your prompt response to quotes requests and availability to help at short notice has proven invaluable throughout the closing stages of this project.

All members from Weston Kitchens have always displayed a professional and friendly attitude when working onsite and has been greatly appreciated by the team working on this project."

Customer service, professionalism and communication made this such an easy process

Jason and Kelly from Weston Kitchens gave us excellent service from the showroom through to the installation.

They were very informative, familiar with their product and helpful advice on kitchen options. Their customer service, professionalism and communication made this such an easy process, we would defiantly recommend Weston Kitchens.

We can't recommend Jason enough

Jason recently completed a new kitchen, laundry, built in cupboards and bathroom vanity. Jason's work was of high quality and everything ran smoothly. We can't recommend Jason enough.

Very happy with all of his work

Jason has now worked on 2 of my properties ranging from kitchens to entertaining units and built in wardrobes.

I would not hesitate to recommend Jason. Very happy with all of his work

Would highly recommend to anyone

We have just had Jason fit out our new home and it looks amazing! Quality finish, eye for detail, innovative ideas and amazing customer service. Would highly recommend to anyone.

An incredible eye for detail and he has made this entire process stress free

I am so happy with the work Jason did at my place. He has an incredible eye for detail and he has made this entire process stress free.

I would recommend Weston Kitchens to everyone. Incredible service

You were a pleasure to deal with!

We are so happy. It's beyond what we could have imagined!

You were a pleasure to deal with! Thank you again. You were so professional, friendly, knew what you were talking about, followed the talk with the walk and put up with our dithering and procrastination!!