Master Builders Awards 2019
---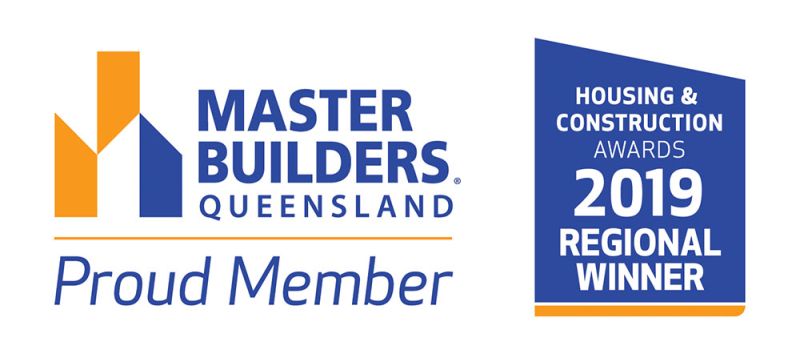 Weston Kitchens and Bathrooms are humbled to be awarded Residential Trade Contractor of the Year for the Downs and Western Housing and Construction Awards 2019.
We had been nominated for this award by Urbane Build with an overwhelming recommendation.
"I am Jace Townsing, director of the building Company Urbane Build pty ltd. In the last 12 months we have engaged Jason Weston of Weston Kitchens to take on the role of joiner for our projects.
We pride ourselves on producing an immaculate product, on time and on budget. Jason was aware of how we operate and approached us with eager interest to come on board and help us continue on this path.
It could be a $70000 joinery build or a $1000 vanity for the bathroom, the service, punctuality, quality and value for money is there every time without fail.
Jason's eye for detail has taken our finished product up another level from where we were. His innovative design and creative use of materials has turned our joinery into something that looks like it belongs in a magazine. His successful time management on all jobs is something we look forward to every time.
This entry is a result from Jason's performance since first beginning with us. One job in particular that should be mentioned is 46c Cranley Street. It is the job that is showcased in the images. This job is the epitome of quality workmanship, affordability & innovation. It goes to show you don't need to spend big money to look like a million dollars.
Jason was approached with a brief to create contemporary high-end joinery on a budget. A perfect example of the brief is the black feature cladding seen throughout the kitchen. This was originally a select cladding that came with a premium price. After quoting it was quickly realised the volume wanted was not able to be fit into the budget. Rather than compromise on other selections, Jason created his own product made out of affordable mdf board, creativity and innovation saw this cladding feature multiple times throughout the build.
Client feedback has never been less than perfect after dealing personally with Jason and Westons kitchens.
All of the above attributes form a contractor we are proud to partner with on every job. And are the reason why Jason and his team will be a household name in the downs and western building scene for a long time to come. "
We also had the pleasure of installing joinery for other winning projects including:
Lavish Construction - Home Renovation/Remodelling Project up to $275,000
Bryant Brothers - Individual Home $651,000-$750,000
Hutchinson Builders - Education Facilities up to $10 Million (Downlands College)
Hutchinson Builders - Commercial Building up to $5 Million (Summer House)
Hutchinson Builders - Retail Facilities up to $5 Million (Brisbane) (Burpengary East 7-Eleven and Childcare)