Sienna House by Lavish Constructions
---
It was such a pleasure to work with Tom and the team from Lavish Constructions on this incredible project. This amazing home has also won a Master Builders regional award. Caesarstone Australia thought highly enough of this home to have featured it throughout their marketing. Builder Tom Haddock from Lavish Constructions has created an exceptional modern home featuring an array of new products and finishes.
A modern industrial style has been created throughout with the kitchen consisting of Flexipanel black matt joinery with Polytec Florentine Walnut overhead cabinetry. Caesarstone Rugged Concrete is a standout feature throughout the house. Recessed rail and a fully integrated dishwasher help to create a seamless modern feel throughout the joinery. The grey mirror splashback was the perfect finishing touch for this beautiful kitchen.
The ensuite in this home is an absolute standout. The perfect tile selection, gold fittings and timber features alongside the matt black cabinetry and Rugged Concrete top have all tied together to create a sexy modern bathroom. The spotted gum timber was also brought into the floating vanity through the recessed rail. The main bathroom vanity consists of Polytec Florentine Walnut with matt black recessed rail and a Rugged Concrete top.
The laundry was constructed with Flexipanel Designer White cabinetry and features Polytec Florentine Walnut overheads and recessed rail. The walk-in robe was dressed up by adding Polytec Florentine Walnut edging. This is a great way of creating a beautiful robe without blowing the budget.
The quality and workmanship completed by the team from Lavish Constructions is second to none and it's always a pleasure to work alongside them. You can check out what Lavish Construction have to offer here https://www.lavishconstructions.com.au/
If you would like to discuss how Weston Kitchens can help with your new home, you can contact us here.
Case Studies
---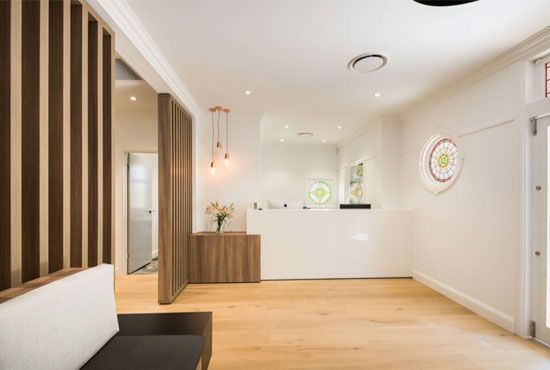 Case Study: Heasley Dental
From outdated, bleak and tired to modern, light and aesthetically stunning. This Toowoomba dental surgery was still featuring décor from over 30 years ago before undergoing a major renovation. With creams and browns, red vinyl seats and sunflower curtains straight out of the 70s the interior style of this dental practice was in desperate need of a revamp to reflect its modern, up-to-date brand.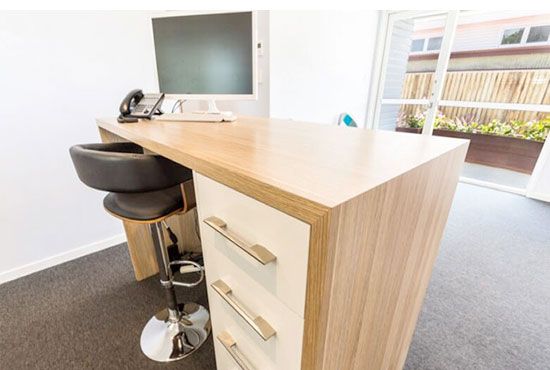 Case Study: Office Renovation Ideas and Inspiration
Our clients had bought an old house in Toowoomba and wanted to transform it into a modern office. They had a vision of how they wanted their office to look but weren't quite sure of which products to use to make that happen. Our team at Weston Kitchens and Bathrooms were able to bring that vision to life.