Storage Tips for Houses Big and Small
---
Are you sick of tripping over shoes at the door, or the kids' toys on the floor?
Can you never find the lid to match the container?
Do you spend 10 minutes rifling through the bathroom cupboards to find the nail clippers?
If you're like the rest of us and need some storage tips, we have a few ideas listed below.
THE SHED AND THE SHOES
An easy way of tiding up your garage is to add some extra storage cupboards along a wall if you have the space. Great to hide the kids' scooters and balls or the hubbie's fishing gear. Adding a shoe cupboard will help you avoid tripping over shoes left at the door, and it's a great way of keeping creepy crawlies from invading shoes left lying around. If you're short on space you can always place overhead cupboards on the wall, which allows for your car to fit neatly underneath.
DRAWERS INSTEAD OF CUPBOARDS
When planning your kitchen keep in mind that drawers are much better than cupboards for storage. The reason? Everything can be stacked neatly in easy reach and you don't have to get on your knees to reach the things at the back.
There are many handy draw inserts to keep your drawers tidy. Our favourite are from the huge range from Blum.
Drawers can also offer a sneaky way to fit in extra storage. A great example is an extra draw made to fit around your sink. This is usually dead space, but with an extra draw, it's the perfect spot for every day kitchen items like rolls of alfoil, lunch bags and those bits and pieces that don't fit anywhere else.
Bin drawers is a trend we're seeing in modern kitchens. Your bin can be hidden in its very own cupboard. Tucked away from sight it makes your kitchen look neater and seamlessly matches the rest of your kitchen. There are a huge range of sizes to fit every kitchen.
PLANNING YOUR ROBE
If you're like us, you have way too many clothes for the size of your wardrobe. However, with some simple planning you will be surprised at what you can fit where.
Try a mix of double and single hanging. By using double hanging for all your shorter items, you can fit twice as much in the same space. Drawers in the robe are a handy storage solution for delicate items. They're easier to keep tidy and easier to find what you're looking for. A shallow draw for belts or jewellery will add a nice touch and keep things from becoming tangled. Adding in some overhead cupboards or open shelves with baskets is great for storing the items you don't use very often.
THE MESSY BATHROOM CUPBOARD
I know I've said it before but I'll say it again, drawers, drawers, drawers. How often have you been bending over searching for something, to then finally find it right at the back of the cupboard? By using drawers with inserts or containers, you'll be able to find what you're looking for at a glance and fit in far more than you would with cupboards.
If you would like to discuss different storage options for your home the team at Weston Kitchens and Bathrooms are happy to help. Contact us now
Case Studies
---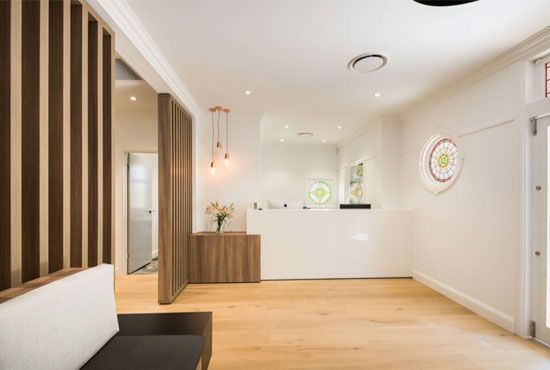 Case Study: Heasley Dental
From outdated, bleak and tired to modern, light and aesthetically stunning. This Toowoomba dental surgery was still featuring décor from over 30 years ago before undergoing a major renovation. With creams and browns, red vinyl seats and sunflower curtains straight out of the 70s the interior style of this dental practice was in desperate need of a revamp to reflect its modern, up-to-date brand.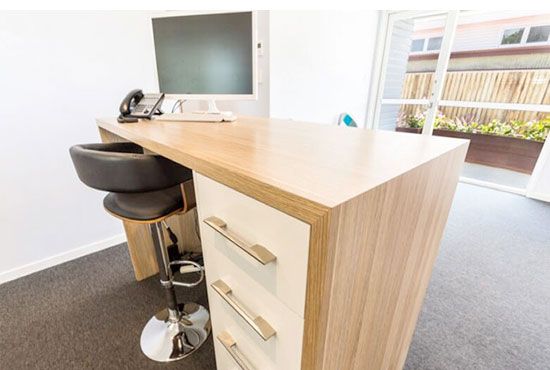 Case Study: Office Renovation Ideas and Inspiration
Our clients had bought an old house in Toowoomba and wanted to transform it into a modern office. They had a vision of how they wanted their office to look but weren't quite sure of which products to use to make that happen. Our team at Weston Kitchens and Bathrooms were able to bring that vision to life.